Meet Newly Vang, WLMT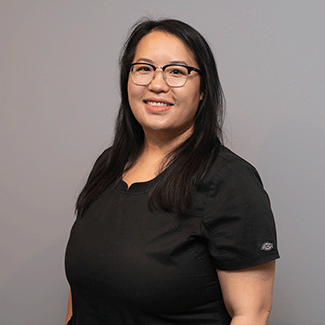 Newly believes in the magic of massage and the numerous benefits of it for everyone, no matter their age! Many of her clients appreciate her naturally deep pressure, therapeutic touch, and intuition to find and massage the knots out of their muscles.
Discovering Her Niche
After graduating from UW Stevens Point with her BA in Spanish and a minor in ESL, Newly returned to the area. One day she was massaging her mom, something Newly has always done.
"She said, 'why don't you just go back to school and do this?'" For a year, Newly thought about what her mother said and decided to apply to massage school in Eau Claire.

I realized that I love massaging people and am so glad I found my niche.
Education and Techniques
Newly has been a massage therapist and member of the American Massage Therapy Association (AMTA) since 2017 and specializes in Swedish, deep tissue, and hot stone massages. She has also been trained in the following types:
Myofascial release
Prenatal
Sports
Cupping
Cryotherapy for migraines
A Passion for Travel
Outside the practice, Newly enjoys traveling, and has been to several countries in Europe, including Spain, England, France and Portugal. She also speaks Spanish and Hmong in addition to English.
Helping Clients Across the Spectrum
Newly finds it rewarding to help many people get out of pain and feel better. She's worked with clients after they've had surgery, and has helped others with sports injuries or those preparing for big athletic events, such as marathons.
One patient had multiple scars, but after Newly provided massage therapy for some time, the scars became virtually invisible. Another client, a semi truck driver, came into the practice, unable to turn their head. This client had never seen an MT before. After Newly provided massage, the person could turn their head and go to work that evening.
Book a Session Today
Contact Denn Chiropractic to schedule a session with Newly!
CONTACT US »

Newly Vang | (715) 726-0400