Standard Process Nutrition in Chippewa Falls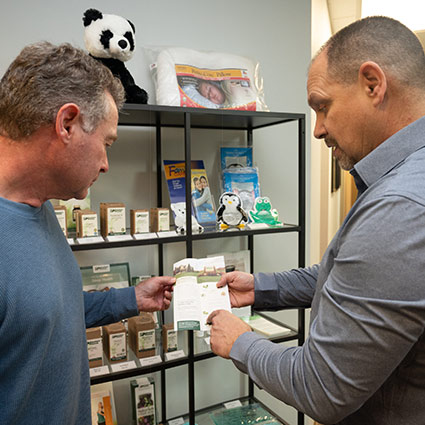 For many years, we have seen a growing trend toward a more natural, healthier way of living. As part of a natural lifestyle, many people include supplements in their diet to provide missing elements and boost their body's function. One of the best known companies that helps people achieve optimal nutrition is Standard Process (SP).
Since 1929, Standard Process has been dedicated to producing quality nutritional supplements based on the whole food philosophy of providing nutrients as they're found in nature—in a whole food state where their natural potency and effectiveness would be realized. Standard Process products have one of the highest absorption rates—96-98%—and it's all from whole foods.
Starting with whole foods, they are prepared in a way that safeguards their nutritional value. Made from 100% biodegradable food, with no additives or preservatives, SP supplements are all natural products to help you achieve your goals.
Nutrition and Chiropractic
Proper nutrition is part of any effective chiropractic program. The body is designed to use nutritional components to achieve optimal health and wellness. When we are deficient in this area, our body may struggle to meet its health needs.
At
Denn Chiropractic
, we recommend Standard Process supplements to assist our patients in meeting their dietary needs. Supplements may be purchased at our practice or via
our online store
.
Some of the most requested supplements are
Congaplex®: helps the body adapt to viral infections
Turmeric Forte: has huge anti-inflammatory benefits, helps with joint stability and flexibility, and stimulates the thyroid for more energy and stamina
Trace Minerals-B12™: used to boost the mineral balance in our body because our soil is so depleted from over farming
Manganese B12™: #1 function is to strengthen and repair ligaments to speed up the healing process
Results You Can See
Dr. Denn uses Standard Process products himself and has seen many benefits. Patients come to the practice showing less stiffness in their joints, more flexibility, drops in their blood pressure, and the ability to participate in activities again.
Ready to Try?
Dr. Denn will be happy to discuss which supplements might be right for you. Book a visit today!
CONTACT US »

Standard Process Nutrition Chippewa Falls, Lake Hallie, Eau Claire WI | (715) 726-0400