Massage Therapy in Chippewa Falls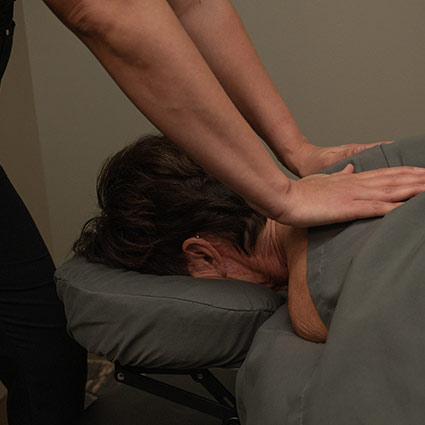 While massage feels fantastic and is relaxing it does so much more.
Therapeutic massage releases tension, increases circulation, improves well-being and more. Massage is also an ideal complement to
chiropractic care
.
Types of Massage
We offer the following types of massages:
15-Minute Chair Massage is a short, seated type of bodywork which directly addresses neck, back, shoulders, arms and hands and can be tailored to fit a client's specific needs. Chair massage is ideal for the busy individual.
Mini Massage is intended for site-specific work of the neck, shoulders or problem areas. This massage can also be a relaxation refresher to relax your body and mind. Please note there is not enough time for a full body massage. (30 minutes)
Swedish Massage is a relaxing massage that uses flowing, broad strokes. This massage helps calm the nervous system and relax muscle tension throughout the body. Some of the benefits are increased levels of oxygen in the blood, decreased muscle toxins and improved circulation and flexibility. (30/60/90 minutes)
Sports Massage/Deep Tissue Massage is beneficial for chronically tense and contracted areas: stiff neck, low back and sore shoulders, just to name a few. This style works by physically breaking down adhesions in the muscles, tendons and ligaments. This massage can be done as a full body massage or site-specific. Benefits include pain relief, calming inflammation and restoring normal movement. (30/60/90 minutes)
Prenatal Massage is done in the side-lying position with pillows placed to ensure comfort and proper support to a pregnant woman's changing body. Various studies have revealed that massage therapy performed during pregnancy can reduce anxiety, decrease symptoms of depression and relieve muscle aches and joint pains. Benefits also include improving labor outcomes and newborn's health. (30/60/90 minutes)
Lymphatic Massage is a technique developed specifically for managing lymphedema—an accumulation of fluid that can occur after the surgical removal of lymph nodes. Lymphatic massage uses gentle strokes, taps or pushes to the skin in the direction that follows the structure of the lymphatic system. The result is the accumulated lymph fluid can drain through proper channels. (30/60/90 minutes)
Hot Stones is an energy balancing therapy that uses hot stones to facilitate circulation and ultimate relaxation for the mind, body and soul. (60/90 minutes)
Cupping Therapy is an ancient type of modality in which cups are placed on the skin for a few minutes to create suction. Cupping therapy helps with pain, inflammation, and blood flow. You can add this therapy to any massage.
Migraine Management massage uses a combination of scalp and face massage, aromatherapy and cold marble stones placed strategically on the face and around the scalp to decrease pain and inflammation or swelling. This therapy lasts approximately 30-45 minutes with a 15-minute recovery time before leaving. It is recommended that the client bring a pair of sunglasses into their appointment to use when leaving due to light sensitivity triggers.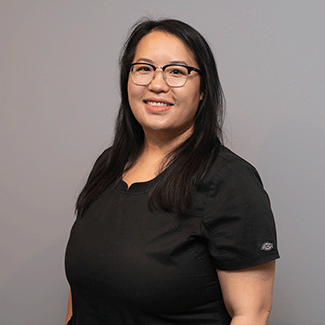 Our Massage Therapist
Newly Vang, WLMT
Newly believes in the magic of massage and the numerous benefits of it for everyone, no matter their age! Many of her clients appreciate her naturally deep pressure, therapeutic touch, and intuition to find and massage the knots out of their muscles.
Discovering Her Niche
After graduating from UW Stevens Point with her BA in Spanish and a minor in ESL, Newly returned to the area. One day she was massaging her mom, something Newly has always done.
"She said, 'why don't you just go back to school and do this?'" For a year, Newly thought about what her mother said and decided to apply to massage school in Eau Claire.
I realized that I love massaging people and am so glad I found my niche.
Frequently Asked Questions
Do I need to undress before my massage appointment?
The majority of clients do undress completely, but some leave some clothing on such as underwear. You decide on the level of comfort that's right for you. Rest assured that you will be appropriately draped at all times. Your privacy is always respected.
What will the massage feel like?
It depends on the techniques used. Your massage session may start with big, flowing strokes to promote relaxation. You may feel increased continuous pressure to relax certain areas and release tight muscles. Deep tissue massage or trigger point therapies employ deeper pressure and more intensive techniques. Should you wish to receive less or more pressure at any time, tell your therapist. We always want to ensure you are comfortable the entire time you're here.
Will I be sore after my massage?
It depends on the type of massage and degree of pressure you receive. If at any time the pressure feels uncomfortable, please let your massage therapist know. Drinking additional fluids after your massage may decrease any soreness. These symptoms will usually subside by the next day.
Book a Session Today
You don't have to be a chiropractic patient to schedule a massage, though many of our chiropractic patients regularly receive therapeutic massage at our office in Chippewa Falls. Contact us today to schedule your session.
CONTACT US »

Massage Therapy Chippewa Falls, Lake Hallie, Eau Claire WI | (715) 726-0400